I can't explain how happy I am this week. So to get this started did you notice the side bar? The one on the right side? Yes, it is true I am going to be a contestant on One Month Two Win IT!!!!!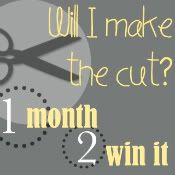 I can't even explain the shock and excitement that went through me. In complete honesty I don't think that I have ever been that excited I was on the phone with my friend and I dropped the phone, the email was really unexpected. I had pretty much given up any hope that I would make it, but I did and still am in shock. I have everything planned out for the weeks to come, I hope I make it to the end, I think my crafts will turn out GREAT. Now I just need to make sure I give myself enough time to keep up with everything. I hope to not be one of those bloggers who neglect their blog while they are in the contest but honestly I don't know.
Spring Break is coming to an end and it went by way to fast, I don't feel like I got anything done that I wanted, but I love that I was able to spend so much time with my girls. Also though, I Love that Spring Break is coming to an end, because that means I only have 5 more weeks of school until the end of the semester.