Today is the big day the day that you can go over to One Month To Win It and vote. Remember I am a contestant this season and I would LOVE for you to vote for my project, unfortunately I can't tell you what one it is. Be sure to head over there though and vote 50% of the votes comes from the audience and 50% comes from the judges. I really, really, really want to make it past the first week.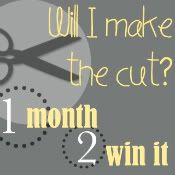 The project and the shirts did get the better of me so no project but regardless I did have a GREAT weekend and the one day of sunshine proved to be spectacular.
I had some grocery shopping to do and while I was there I saw a sign that said the Oscar Meyer Weiner Wagon was going to be there, I was stoked I knew that this was a rare opportunity and I really wanted to make sure my girls saw it. They got to send a postcard to their grandparents and they were even given whistles, it really was fun.
I had to drive down to my parents house and while driving down there we saw these Cranes, it is nice to see the birds because that means that the weather may actually change, despite the evil snow that we experienced yesterday. We also stopped and heard literally thousands of birds singing, it was amazing and I wish I would have recorded the voices because it was a beautiful melody.
We also saw these deer about a mile later.
It was nice to stop and see and hear nature, we saw new baby cows and that was nice too.
I also brought another member back to my home introducing Freeda.
Freeda is my new freezer, she is amazing and I am so happy to have the extra freezer space, I have been told I could have her for quite sometime but on Saturday I finally loaded her into my car. Freeda is my Free Freezer, notice all the FREE in the words!
After we got home I took the girls to the movie HOP, I wasn't looking forward to it but we had a lot of fun and I really enjoyed myself. Today we are going roller skating and I am really looking forward to that.