Just a reminder that today is the last day that you can vote for a project over at One Month To Win It, if you haven't voted yet please be sure to vote remember I am a contestant and 50% of the vote comes for you. It would be nice if you would vote for my project but alas I can not tell you which one that is, so SAD.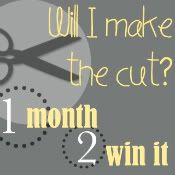 As mentioned on Sunday's post the girls and I made the Chloe and Mieko shirts for Japan. They told me how everyone kept complementing their shirts but it wasn't until we went skating that night that I really saw the response they were getting on their shirts. Many people complemented them on their shirts and it was nice to hear the girls tell others what the shirts actually meant
We finished the boy versions of the shirts and they were a lot more difficult to make, not really more difficult but a lot more thread changes on the boys because of the hats as well. They turned out great and two of them are on there way to Utah for my cousins along with a nice note telling them about the shirts and the other two shirts are on there way to California where they will be packed into a suitcase and then flown to Japan.
Again we had just a great time making these shirts and I encourage all of you to make your own shirts, it was really rewarding. So make sure you got to Living with Punks and to Pink Fig Design so that you can get all of the questions that you may have about these shirts answered.